Green Legacy Hiroshima Peace Tree Project
In October, 2019, Shinzen Friendship Garden was invited to a meeting with staff members of California Health Sciences University to discuss the Green Legacy Hiroshima Peace Tree Project. Yamabe & Horn Engineering's co-founder Ronald Yamabe is the current sitting President of the Shinzen Friendship Garden in Fresno.
The group was advised that thru a conversation between Miho Yoshida and Dr. Miko Rose, Assistant Professor, Department of Adult Psychiatry, Michigan State University, at a university conference in Denver, Colorado, there is a GLH Initiative, a global volunteer campaign to disseminate the universal message of trees that survived the atomic bombing of Hiroshima, Japan. Currently seeds and saplings for the A-bombed trees are growing in more than 30 countries.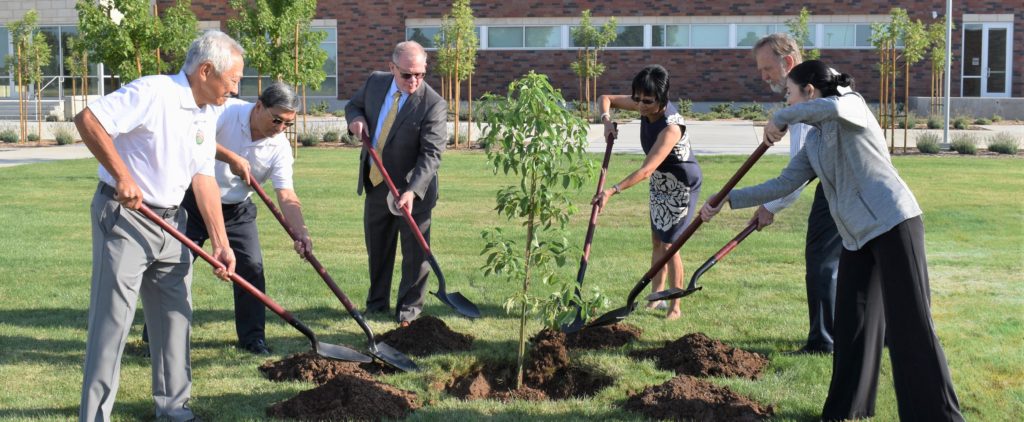 The PTP is a group effort to get camphor trees, as a symbol of peace throughout the world, planted at several locations within the Fresno area.
The organizations that have indicated a desire to plant camphor trees within their property are:
California Health Sciences University, Fresno – 3 trees
California State University Fresno – 3 trees to plant and 2 trees as backup
Fresno Buddhist Church – 2 trees
Fowler Buddhist Church – 1 tree
Shinzen Friendship Garden – 1 tree
Clark Bonsai Collection, Shinzen (CBC) – 21 trees for bonsai forest composition
The seeds were collected by GLH members from a camphor tree located 0.7 miles from ground zero in Hiroshima. These camphor seeds were germinated and cared for by Southern Oregon University (SOU) plant science department staff. Thirty five seedlings, 28-46" high were shipped to Ron Yamabe on January 9, 2020 for distribution to the 6 above mentioned organizations.
The CBC has taken possession of 21 trees and have potted them in a bonsai forest composition. The remaining 14 trees are still in Ron's possession care.
On August 6, 2020 the GLH held a Green Legacy Hiroshima Peace Tree Planting and Dedication Ceremony at the CHSU campus on Alluvial Avenue and Temperance Avenue. This date coincides with the 75th anniversary of the Hiroshima bombing on August 6, 1945, and Nagasaki bombing on August 9, 1945.
An article on The Business Journal also featured the story.
https://yandhengr.com/wp-content/uploads/2019/03/yhlogo_300.png
0
0
Yamabe & Horn Engineering
https://yandhengr.com/wp-content/uploads/2019/03/yhlogo_300.png
Yamabe & Horn Engineering
2020-08-20 16:41:13
2021-01-19 17:18:29
Green Legacy Hiroshima Peace Tree Project